Why Marketing Agencies Dominate Your In-House Marketing
In light of the pandemic and the major shift in our ways of working and doing business, more businesses are realizing the value in digital marketing, which makes it hard for in-house marketing teams to get up to speed with. Outsourcing to a marketing agency that can keep up with your business' competition, provide results and quality, all while cutting costs on hiring processes and digital technologies is a great investment for any company.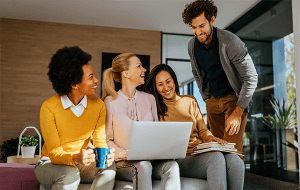 Marketing being a crucial part to your brands growth, it is important for every business to invest in marketing strategies that will build awareness, trust and brand loyalty with their customers. More companies are outsourcing marketing services for reasons such as cutting costs, maximizing efficiency and working with industry professionals with an external perspective who will continue to innovate and create.
Statistics show that:
Close to 80% of businesses feel positive about their outsourcing partners (Fortunly, 2021).

60% of businesses with 50+ employees outsource (Fortunly, 2021).

30% of companies outsource for their digital marketing processes (Microsourcing, 2019).
With that in mind, it is important to highlight why companies find that outsourcing is a benefit to their business.
Quality marketing services give your company verity and the freedom of choice to choose the service your brand needs, allowing you to only spend on what is necessary for your business.
Over the past year, 40% of companies have been outsourcing to assist their business in web development, 31% in search engine optimization and campaign operations, and 30% in email marketing (Marketing Charts, 2020).
Let's have a look at four major benefits in outsourcing an agency for your marketing responsibilities:
1- Most marketing agencies comprise of a full team of marketing experts.
Hiring a marketing agency means hiring a team of marketing specialists which includes a graphic designer, social media professionals, content creators, copywriters and web & app developers which is a lot more cost effective than having to hire each of these subject matter experts and paying them individually (including employee benefits).
According to a Global Outsourcing Survey done by Deloitte, results showed that 70% of their interviewees indicated that their main reason for outsourcing was to reduce costs.
2– Innovative ideas and new perspectives from people outside of your company.
With a professional marketing agency that is up to date with all market and industry trends, they can identify the gaps and develop new strategies to match the behaviors of your business' dynamic customer networks. Working with the latest marketing technologies and tools, agencies can provide your business with better access to your customers to collaborate and keep the engaged and help you customize your products and services accordingly.
3– Improved efficiency and quality
Marketing is a task which requires full attention. Hiring a team that is solely focused on your marketing goals and not distracted by other operations in your company can improve the quality of your marketing. In addition to this, your team has the chance to focus on other areas in your business which may need improvement and decrease workload on your staff members. According to a survey done by Clutch on small business owners, 20% chose to outsource to improve efficiency and 18% for expert assistance.
4– Marketing agencies are analytical
Once your business goals are understood, marketing strategies are devised around these goals with the aim to reach them. Marketing agencies are more efficient in effectively measuring the results and impact of campaigns and obtaining data which allows them to focus on key areas that need improvement and make decisions based on their observations.
So, having an experienced and trusted marketing firm who is passionate about your business, and that can provide your company with all the services you need to reach your marketing goals is proven to be more efficient and affordable.